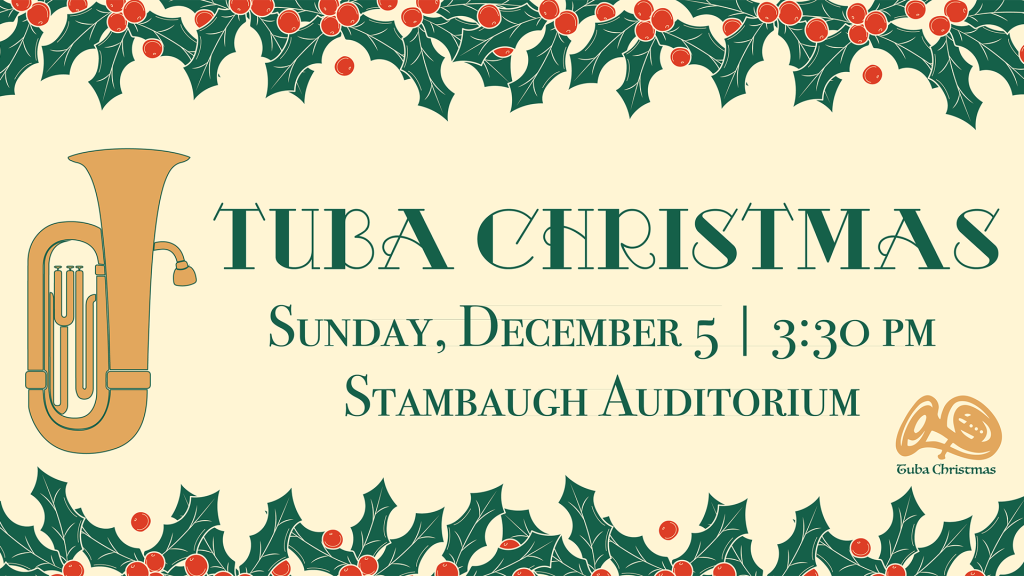 TubaChristmas to Continue at Stambaugh Auditorium as Free Hybrid Event
TubaChristmas in the Valley will continue this year on Sunday, December 5th at 3:30pm with an in-person audience in addition to being live streamed on Stambaugh Auditorium's Digital Concert Hall app and at stambaughauditorium.com.

TubaChristmas, now in it's 48th year, is a celebration of the holidays for which tuba players come together to perform a variety of Christmas classics. The various sizes and sounds of the instrument along with the spirit of the musicians make this event extraordinary.
In the past, the event has garnered participation from nearly 100 tuba players. The idea for TubaChristmas was conceived in 1974 by Harvey Phillips as a tribute to his teacher and mentor, William J. Bell, born on Christmas Day, 1902. The first TubaChristmas was conducted by Paul Lavalle in New York City's Rockefeller Plaza Ice Rink on Sunday, December 22, 1974.
Registration to participate in the ensemble is open until Wednesday, November 17, 2021. All participants must
pre-register, there will be no registration at the door. The registration form can be found on Stambaugh Auditorium's website at stambaughauditorium.com/tubachristmas/ or you may register by calling 330-747-5175.
Stambaugh Auditorium's – The Digital Concert Hall, is an app available to download on smart devices. Gain access to extraordinary performances in the comfort of your home, or the palm of your hand. Users can download the app from Apple's App Store, The Google Play Store, Amazon's App Store, AppleTV and Roku TV enabled devices. For additional information visit stambaughauditorium.com or call 330-747-5175.