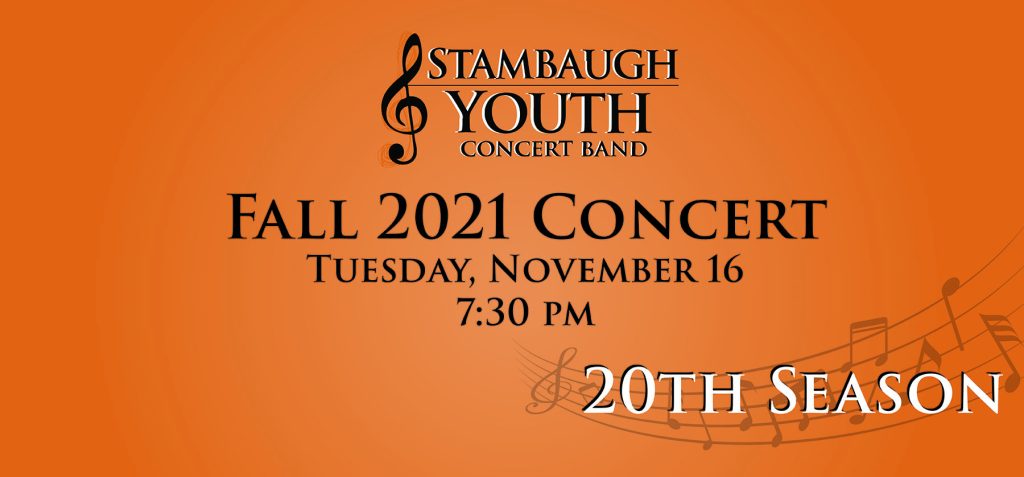 Stambaugh Youth Concert Band Kicks Off 20th Year with Fall Concert
Stambaugh Youth Concert Band celebrates its twentieth year with their annual fall concert in a hybrid format on Tuesday, November 16th at 7:30 PM at Stambaugh Auditorium. The repertoire will feature works by Frank Erickson, Craig Fitzpatrick and Henry Fillmore.
The Stambaugh Youth Concert Band was founded in the fall of 2001 by Thomas A. Groth, former Boardman High School Director of Bands, and Barbara Armstrong, then General Manager of Stambaugh Auditorium. Over the years, participation in the Stambaugh Youth Concert Band has paved the way for many of the students to continue their music education at the collegiate level and to pursue careers in musical performance or music education. The SYCB is currently under the direction of Mr. Tyler Husosky, Dr. Michael Crist, and Mr. Nathan Sensabaugh and features 45 of the top high school musicians from Northeast Ohio and Western Pennsylvania.
Tickets to attend the in-person concert are on sale now and are $8 to $10, inclusive of all fees. Tickets are available for purchase online and by phone. Visit stambaughauditorium.com or call 330-259-0555 to purchase your tickets. The concert will also be live-streamed on the Stambaugh Auditorium "Digital Concert Hall" app and the Stambaugh Auditorium website at no cost. The doors for the concert will open at 6:45 PM. The concert and live stream will start at 7:30 PM. The season is presented in part by The Thomases Family Endowment of The Youngstown Area Jewish Federation. Additional sponsorship opportunities for the event are currently available. Please contact JoAnn Stock, Chief Development Officer, at jstock@stambaughauditorium.com or 330-747-5175 for more information.