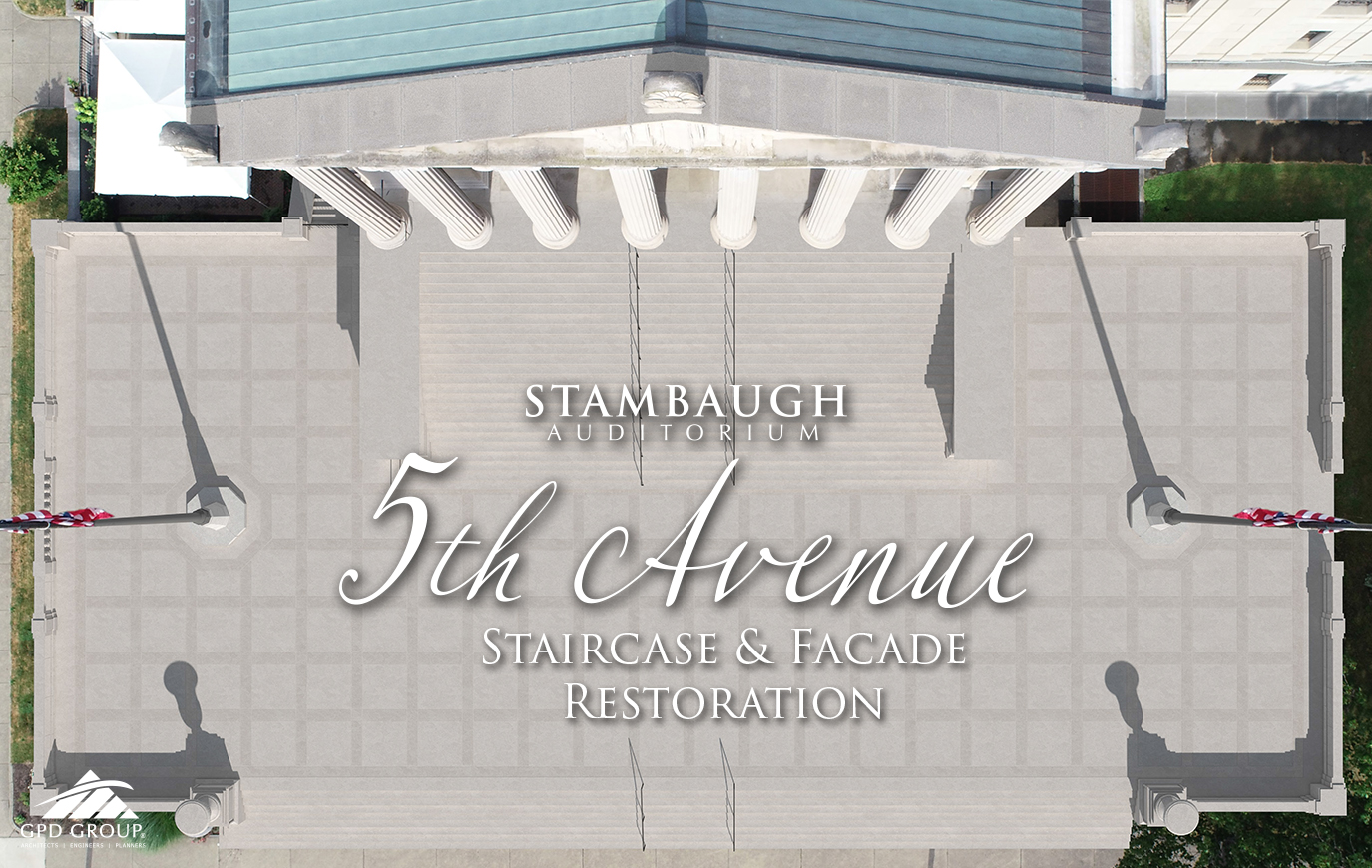 The completion of the Monumental Staircase and Facade Restoration Project is in keeping with Stambaugh Auditorium's mission by preserving and enhancing the magnificent architecture of this historic facility built in 1926.
Before renovation, the limestone staircase, pillars, and facade of the building were severely damaged after many years of exposure to harsh weather. In November 2017, core drillings and surveying occurred to gauge the structural integrity of the main entranceway. The results suggested that the main staircase structure was close to the end of its life.
The Staircase and Facade Restoration Project officially began in April 2021 and was completed in June 2022. This project cost $4.1 million to complete and included a full renovation of the staircase, platform, retaining walls, and decorative metalwork. Additionally, the limestone facade was cleaned and exterior lighting was installed. 
Today, the revitalized grand staircase and facade serve as a reminder of the legacy Henry H. Stambaugh left behind. The mission of Stambaugh Auditorium is to provide a place for education, enjoyment, and entertainment for the people of Youngstown and surrounding communities. Preserving this historic relic in Youngstown is one way to maintain this mission for many generations. 
Be a part of this historical renovation!
This project would not have been possible without the generosity and support of the community. 
The Stambaugh Auditorium Board of Directors and staff members would like to thank the following donors for their generous support of this project:
$500,000
Hine Memorial Fund of the Youngstown Foundation, $500,000
$250,000 – $499,999
Frank and Pearl Gelbman Foundation, $265,000
Ward Beecher and Florence Simon Beecher Foundation, $250,000
Hynes-Finnegan Foundation, $250,000
$100,000 – $249,999
Youngstown Foundation, $200,000
John S. and Doris M. Andrews Memorial Fund, $150,000
$50,000 – $99,999
J. Ford Crandall Memorial Foundation, $60,000
Monday Musical Fund, $50,000
Thomases Family Endowment, $50,000
Pollock Company Foundation, $50,000
$25,000 – $49,999
Premier Bank Foundation, $30,000
Darling Fund of The Youngstown Foundation, $25,000
Pollock Personal Foundation, $25,000
$10,000 – $24,999
Walter and Helen Bender Memorial Fund, $17,500
Warren P. Williamson, Jr. Fund of The Youngstown Foundation, $15,000
Jane F. Lamb Charitable Foundation, $10,000
$1,000 – $9,999
Edward M. Barr Foundation, $5,000