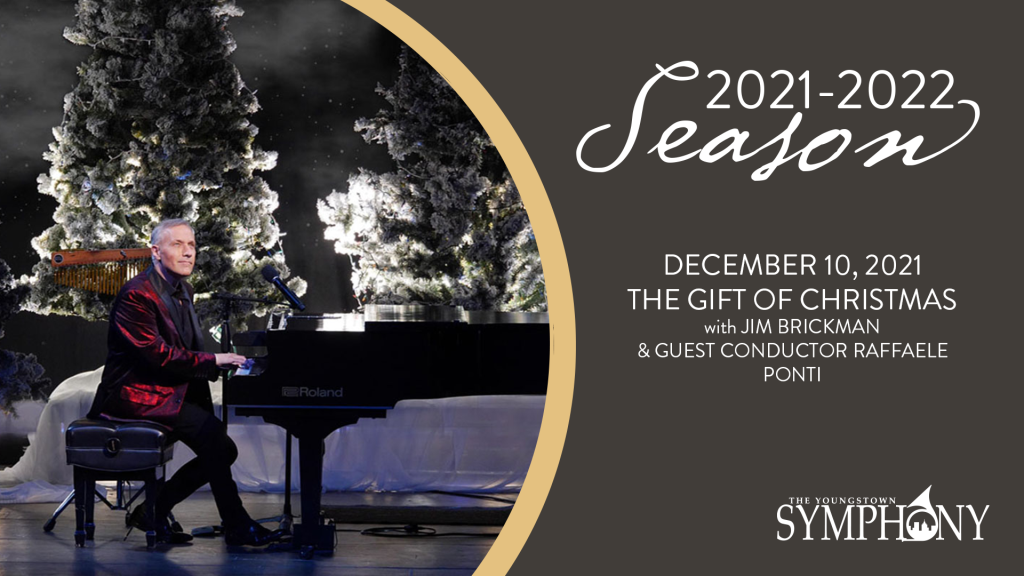 Jim Brickman and the Youngstown Symphony Orchestra Bring The Gift of Christmas to Youngstown
On Friday, December 10, 2021 at 7:30 PM, piano sensation Jim Brickman will join the Youngstown Symphony Orchestra in Edward W. Powers Auditorium at the DeYor Performing Arts Center to present The Gift of Christmas, a concert under the direction of conductor Raffaele Ponti. The concert will feature Brickman's hit songs such as "The Gift," "Sending You a Little Christmas," "Angel Eyes," and "If You Believe."
Raffaele Ponti is currently in his ninth season as Music Director of the Punta Gorda Symphony and eleventh season with the Paducah Symphony Orchestra. Both symphonies have flourished under his leadership. His superb musicianship and dynamic personality have attracted professional musicians and guest artists from around the world.
Jim Brickman is the best-selling solo pianist of our time, earning 22 number one albums and 33 top 20 radio singles in Billboard Magazine. He's garnered two Grammy nominations, gospel music's Dove Award, two SESAC Songwriter of the Year Awards, and the Canadian Country Music Award. He also has a music scholarship named for him by his alma mater, the prestigious Cleveland Institute of Music. Brickman is one of pop music's most fascinating success stories. He jumped from a career as a jingle writer of famous tunes for advertising, to reviving the romantic standard of the popular song. His first album release was 1995's "No Words," and he has gone on to sell eight million albums worldwide.
Single concert tickets for the December 10 concert are available. Tickets range from $42 to $62, inclusive of all fees. Discounts are available for seniors and students. Tickets are available at both the DeYor Performing Arts Center Box Office by calling 330-259-9651 and the Florence and Ward Beecher Box Office at Stambaugh Auditorium by calling 330-259-0555. Both box offices are open Monday through Friday, 10:00 AM – 5:00 PM. Tickets are also available 24 hours a day online at: youngstownsymphony.com, deyorpac.org, and stambaughauditorium.com.
Season Sponsorship packages are available and include program advertising, premium tickets, and invitations to exclusive VIP events. For more information, contact JoAnn Stock, Chief Development Officer at fundraising@youngstownsymphony.com or by calling 330-744-4269.