The Glenn Miller Orchestra returns to Stambaugh Auditorium in Battle of the Big Bands vs. The Tommy Dorsey Orchestra.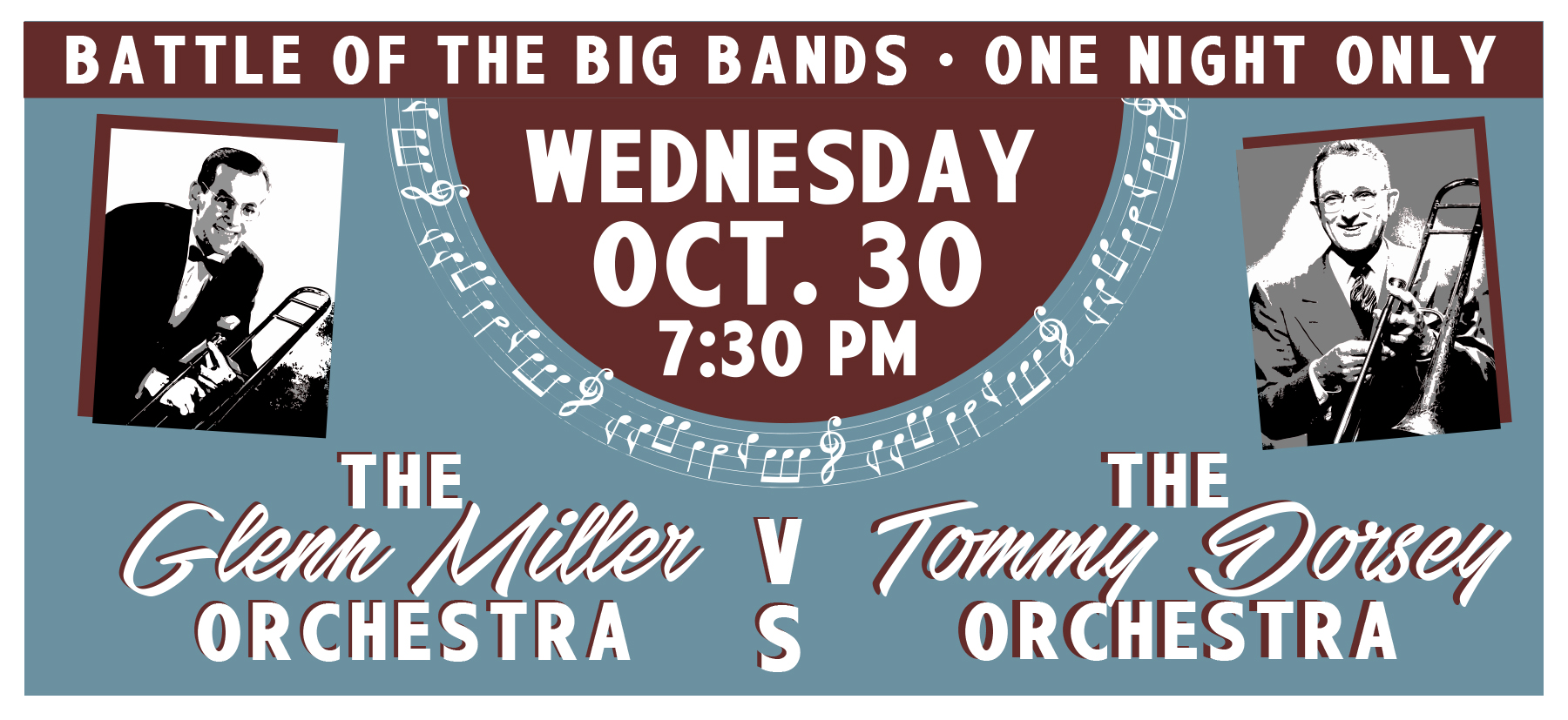 For Immediate Release:
A Battle of the Big Bands featuring the World Famous Glenn Miller Orchestra and the Tommy Dorsey Orchestra is coming to Stambaugh Auditorium Wednesday, October 30th at 7:30pm. From the Montreal Jazz Festival to Lake Mary, FL, this audience favorite show wows the crowd! Just like the Big Band battles from the '30s and '40s, the two bands take the stage in a back-and-forth competition that showcases jazz, swing, and favorite standards from the glory years. The clear winner is always the audience. No Big Band or jazz lover should miss a rematch!
The Glenn Miller Orchestra is the most popular and sought after Big Band in the world for both concert and swing dance engagements. With its unique jazz sound, the Glenn Miller Orchestra is considered to be one of the greatest bands of all time. The present Glenn Miller Orchestra was formed in 1956 and has been touring consistently since, playing an average of 300 live dates a year all around the world. The orchestra's present music director is Nick Hilscher.
In Big Band history, Tommy Dorsey's Orchestra is recognized as one of the best all-around dance bands. It could swing with the best of them, and no other band could come close to Tommy's when it came to playing ballads. Tommy Dorsey, "The Sentimental Gentleman of Swing," was a master at creating warm, sentimental, and always musical moods – at superb dancing and listening tempos. Tommy sustained these moods through the arrangements of Paul Weston, Axel Stordahl, Sy Oliver, and showcased singers who could project them brilliantly.
Tickets will go on sale this Friday, April 5th at 10:00am. Ticket prices range from $20-$80. For more information and to order tickets, visit stambaughauditorium.com, or call the Florence and Ward Beecher Box Office at Stambaugh Auditorium directly at 330-259-0555. The box office is open Monday through Friday, 9:00am-6:00pm.