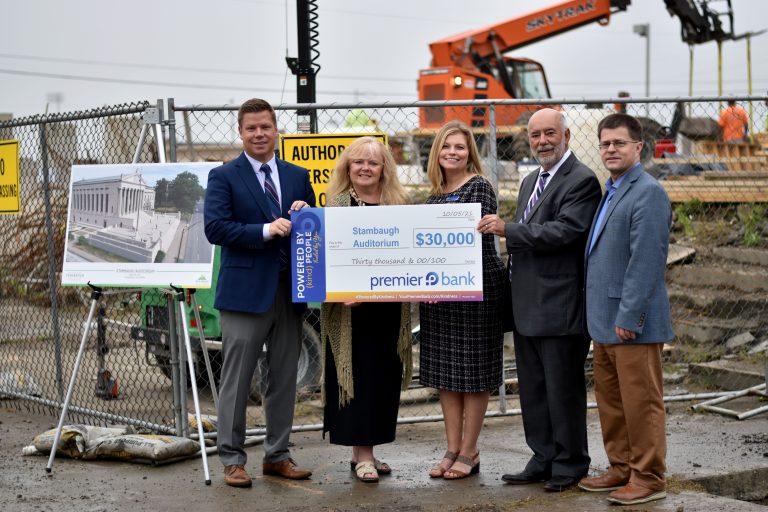 Stambaugh Auditorium receives $30,000 grant from Premier Bank
Stambaugh Auditorium has received a grant of $30,000 from the Premier Bank Foundation to support the Monumental Staircase and Façade Restoration Project.
The goal of the staircase and façade restoration project is to return the monumental staircase, grand entrance, and promenade to its original splendor. The overall cost of the project is estimated at $4.1 million and will include razing and replacing the Fifth Avenue monumental staircase and promenade, reconstructing retaining walls, cleaning the exterior façade of the building, adding dimensional exterior lighting to the entrances and façades, and restoring all decorative metalwork at the grand entrance. Construction is underway.
The mission of Stambaugh Auditorium, a non-profit public auditorium and a cultural and historic landmark in the city of Youngstown since 1926, is to provide events for the enjoyment, entertainment, and education of the people of Youngstown and surrounding communities.
JoAnn Stock, Chief Development Officer for Stambaugh Auditorium said, "We are extremely grateful for the support of Premier Bank in helping to support this vital project." Stock added that plans are underway to raise the additional $500,000 needed to fund the project. For more information about the campaign, contact Stock at 330-747-5175 or jstock@stambaughauditorium.com.

Pictured from left: Josh Toot, JoAnn Stock, Mindy Wiesenee, Frank Hierro, Matt Pagac