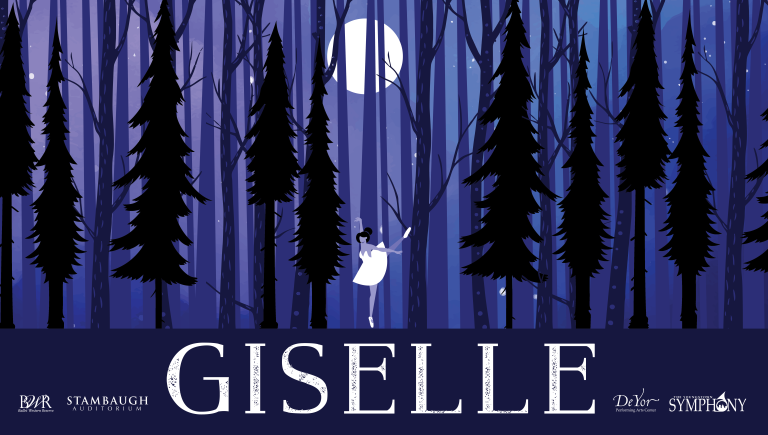 Ballet Western Reserve, Youngstown Symphony Orchestra, and Stambaugh Auditorium to Present Giselle at the DeYor Performing Arts Center
Youngstown, Ohio (January 31, 2022): On Saturday, April 9, 2022, at 7:30 pm, Ballet Western Reserve will return to the Edward W. Powers Auditorium at the DeYor Performing Arts Center in collaboration with Stambaugh Auditorium and the Youngstown Symphony Orchestra presenting Giselle. Tickets will go on sale this Friday, February 4 at 10:00 AM ranging in price from $20 – $34 plus a $6 service fee.

This haunting romantic ballet tells a story of love, betrayal, and heartbreak. Best friends Giselle and Hilaria must confront recent loss when newcomer Albrect befriends Giselle. When betrayal is revealed, the three face the otherworldly consequences of their actions. "Ballet Western Reserve is thrilled to reunite with the Youngstown Symphony Orchestra for its first full-length staging of this romantic classic. The opulent original score – set alongside a reimagined libretto – will transport audiences to a world where exquisite technical feats and dramatic presentation create harmony between music, storytelling, and dance," says Cate Greyjoy, BWR Artistic Director.

Ballet Western Reserve and the Youngstown Symphony Orchestra feel that Giselle will serve as a celebration of a return to collaborating between the two organizations. "In 1962, The Ballet Guild, which would eventually become Ballet Western Reserve, accepted an invitation from the Youngstown Symphony Society to become an affiliate. While developing BWR's 60th Anniversary season, a goal was to reunite with the Youngstown Symphony Society in a collaborative effort. After a successful Nutcracker performance with a live orchestra in December of 2021, we knew we had to continue to provide our patrons with ballet performances not only featuring our BWR dancers but live musical accompaniment. We are excited to join these two long-standing arts pillars of the community to present Giselle," says Katie Merrill, Ballet Western Reserve Executive Director.

"Over the years, both the Youngstown Symphony and Stambaugh Auditorium have looked for opportunities to collaborate with other local and regional organizations. The opportunity to have BWR, the YSO, and Stambaugh Auditorium work together in bringing Giselle to Youngstown showcasing the local performing arts is a continuation of other recent collaborations that have included Opera Western Reserve and the Youngstown Playhouse. This being BWR's 60th Anniversary season and our production of Giselle representing the return producing together for the YSO and BWR, makes this opportunity even more exciting," says Matt Pagac, Chief Executive and Operating Officer for the Henry H. Stambaugh Auditorium Association and the Youngstown Symphony Society.

Tickets will be available Monday through Friday, 10:00 AM – 5:00 PM by calling 330-259-9651 or 330-259-0555, or in person at the DeYor Performing Arts Center. Tickets are also available 24 hours a day online at deyorpac.org.