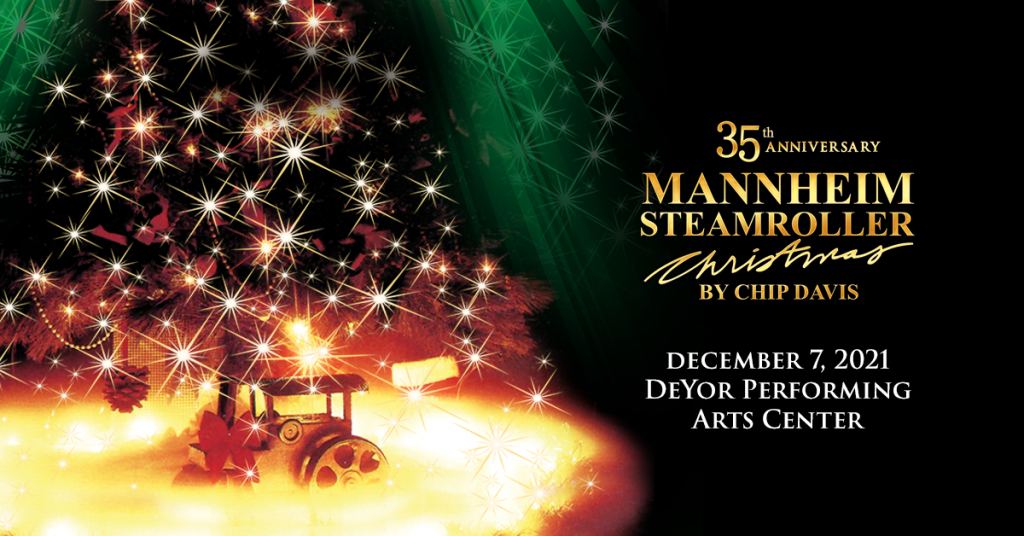 Record-Setting Christmas Tour is coming to the DeYor Performing Arts Center
On Tuesday, December 7, 2021 at 7:30 pm Stambaugh Auditorium will present Mannheim Steamroller in Edward W. Powers Auditorium at the DeYor Performing Arts Center. Tickets will go on sale this Friday, July 23 at 10:00 am. An exclusive pre-sale for email subscribers will begin on Thursday, July 22 at 10:00 am. Ticket prices range from $46-$106 including applicable fees.
Celebrate the holiday magic of Mannheim Steamroller in 2021 with their annual holiday tour. Chip Davis, founder and creator of Mannheim Steamroller, announced the group will once again bring their annual holiday concert tour to fans throughout the country in 2021.
"I remember when I came out with my first Christmas album in 1984 followed by our first tour. Now, over 35 years later, we are still going strong. I want to thank our fans for making us part of their holiday tradition. Today we often see multi-generational families join us during the holidays each year and we can't wait to see them again in 2021." said Davis.
A Grammy Award winner, Mannheim Steamroller has sold more than 41 million albums, 30 million in the Christmas genre. Their holiday CD's have become synonymous with Christmas and occupy top positions on Billboard's Seasonal Chart every year. This year's show will feature all of your favorite original classic Christmas hits from the first Mannheim Steamroller Christmas album.
Tickets will be available at both the DeYor Performing Arts Box Office by calling 330-259-9651 and the Florence and Ward Beecher Box Office at Stambaugh Auditorium by calling 330-259-0555. Both box offices are open Monday through Friday, 10:00 AM – 5:00 PM. Tickets will also be available 24 hours a day online at youngstownsymphony.com, deyorpac.org, and stambaughauditorium.com.