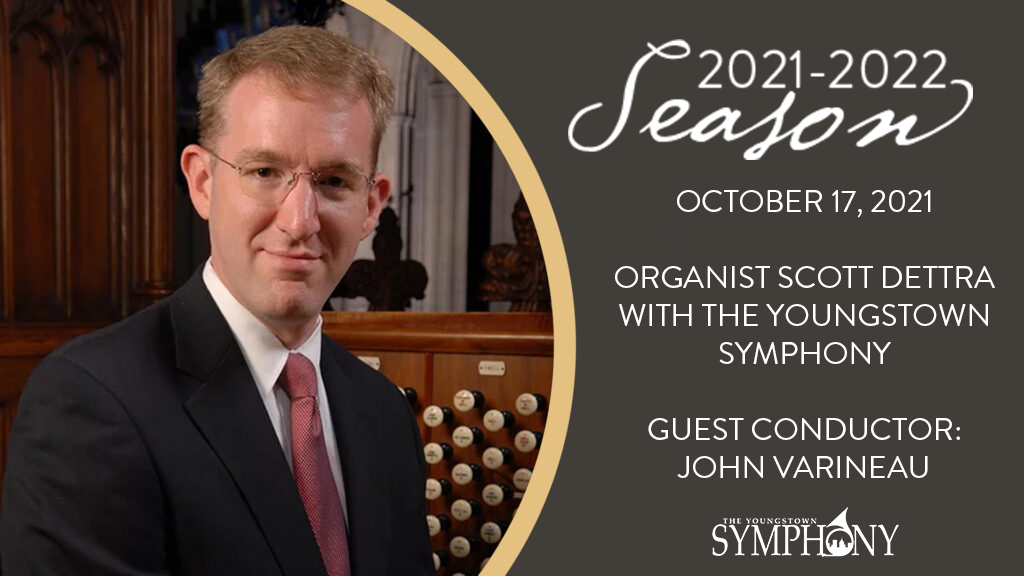 Organist Scott Dettra Joins the Youngstown Symphony Orchestra in Celebrating the 10th Anniversary of the E.M. Skinner Pipe Organ Restoration
On Sunday, October 17, 2021, at 4:00 PM organist Scott Dettra will join the Youngstown Symphony Orchestra in the Concert Hall at Stambaugh Auditorium to present a concert under the direction of conductor John Varineau. The concert will feature the classical works of Jorgan, Bingham, and Saint-Saëns. This year marks the 10th anniversary of the restoration of Stambaugh Auditorium's 1926 E.M. Skinner Pipe Organ, Opus 582.
John Varineau, known for his infectious musical enthusiasm, presents a resumé that includes Music Director of the Holland Chamber Orchestra (now the Holland Symphony Orchestra), faculty positions, and conducting over a dozen symphonies and philharmonics.  Most notably, Varineau was the associate conductor of the Grand Rapids Symphony for thirty-six years.
Scott Dettra, described as a "prodigy" by The New York Times at age thirteen, is acclaimed as one of America's leading concert organists. His playing is praised for its clarity, rhythmic intensity, and musical elegance. He combines an active performance schedule with his post as Director of Music at the Church of the Incarnation in Dallas.
A post-concert dinner is being offered. Cocktail hour will begin at 6:00pm with dinner to follow and will feature food by Chrystal's Catering. The cost is $50 per person. Tickets for the dinner are available through the box office and at youngstownsymphony.com, deyorpac.org, and stambaughauditorium.com.
Single concert tickets for the October 17 concert are available. Single concert tickets range from $42 to $62, inclusive of all fees. Discounts are available for seniors and students. Tickets are available at both the DeYor Performing Arts Center Box Office by calling 330-259-9651 and the Florence and Ward Beecher Box Office at Stambaugh Auditorium by calling 330-259-0555. Both box offices are open Monday through Friday, 10:00 AM – 5:00 PM. Tickets are also available 24 hours a day online at: youngstownsymphony.com, deyorpac.org, and stambaughauditorium.com. 
Season Sponsorship packages are available and include program advertising, premium tickets, and invitations to exclusive VIP events. For more information, contact JoAnn Stock, Chief Development Officer at fundraising@youngstownsymphony.com or by calling 330-744-4269.