You have a fiancé, and the ring. … Now what? You need a venue to make it official and get the wedding planning started! 
There could be some questions that you may not think of when touring wedding venues. We compiled several important questions to consider in our latest Stambaugh Wedding Planning Tips blog. Download the wedding notepad below to jot down your important notes and other questions you may have!
Are you licensed to serve alcohol? How is alcohol priced, and what other fees are included? 
Yes, we do have a liquor license. Stambaugh is different from most venues in the fact that we price alcohol based on the consumption vs. a per person rate. For example, if a couple orders five bottles of Tito's Vodka, but only uses two bottles, the couple would only be charged for the two bottles consumed. When you come in for a tour , we do provide a copy of the final bar menu. Our bar menu includes additional details regarding glassware and mixer fees, which will be provided during your tour.
Does the facility offer additional decor services or items that can be utilized? 
Yes, we offer additional production services such as various ceiling treatment options, pipe and draping, uplighting, wall monograms, and risers. When you tour our venue, be sure to ask your venue coordinator what is available to make your vision come to life. 
If you forgot a piece of decor the day of like vases, glasses, or a sign easel, we may be able to help in a pinch!
Can I hire my own vendors or is there a preferred vendor list we need to stick to?
We offer a list of recommended vendors as a starting point for couples with their primary contact information. You can hire any vendor you would like. The only vendor that is required to be used from our vendor sheet is one of the five caterers on the list. 
Can the venue accommodate a DJ or live band?
Both! Stambaugh Auditorium has the space for a DJ or a live band. If a reception is in the Tyler Grand Ballroom, the DJ or live band can be located on the stage toward the back of the ballroom. Customized room layouts are made for each wedding based on what the couple is envisioning. Our event leads will work with you to figure out what makes the most sense for the final location of your entertainment for the evening. Live entertainment for cocktail hour can also be placed on the landing of the grand staircase.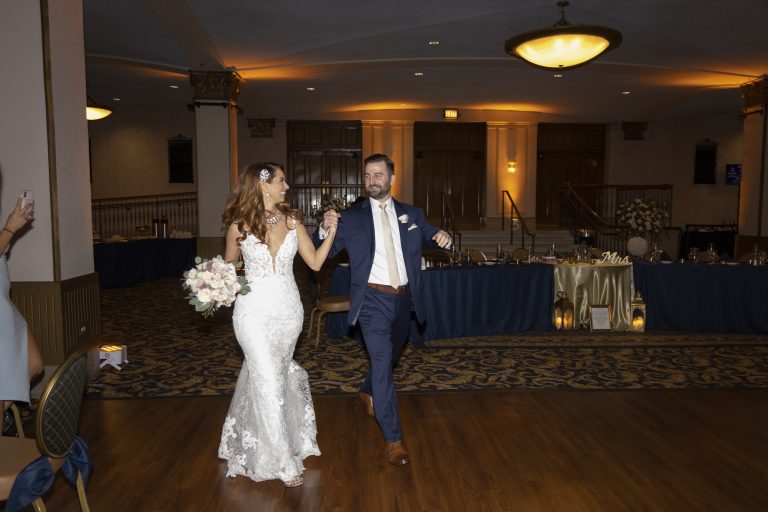 Can I have my ceremony here, too?
Many couples have both their ceremony and reception at Stambaugh. Couples are able to have their wedding ceremony in the Christmas Hall, Formal Garden, Concert Hall, 5th Avenue Promenade and the Grand Ballroom. These are all versatile spaces that can host various wedding celebrations. 
Is there a cake cutting fee? What about setting up a cookie table?
The five caterers that work at Stambaugh take care of the cake cutting and cookie table setup. Please have conversations with the caterers to address any services that they may provide, and the costs associated with them. But we are always here to help!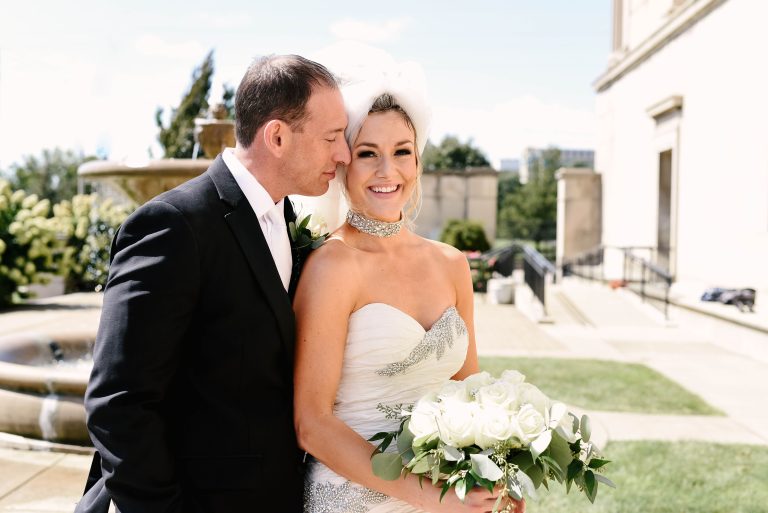 What is the capacity for each space in the venue? 
The Grand Ballroom can hold up to 500 guests, but you should talk with your venue coordinator on the potential to seat more if needed. The Christmas Hall can hold up to 200 guests during a wedding ceremony when utilizing benches along the wall, and 100-150 guests for a reception.
The Christmas Hall, and Formal Garden are great spaces for smaller ceremonies and the Grand Ballroom, Concert Hall and 5th Avenue Promenade for larger ceremonies. Talk with your venue coordinator when you come in for a tour on the perfect space for your ceremony or reception, the possibilities are endless! 
What does it mean to have an on-site venue coordinator? 
Stambaugh offers an on-site venue coordinator. We can be as involved or uninvolved as a couple wishes. At the very least, your coordinator is here throughout the entire process from the tour to your wedding day. We will reach out and touch base with all vendors to make sure the timeline is correct, and we are here for the dress rehearsal and your big day!
Give us a call at (330) 747-5175 to schedule your tour today!
Are you interested in having your wedding at Stambaugh Auditorium?