As first time newlyweds, many couples don't know right off the bat how much to budget for wedding invitations. And when they're thrown with an unexpectedly large bill, the shock begins to set in! 
When including the invitation, RSVP date, reception and accommodation cards, the average cost of wedding invitations can range between $400 to $700. Couples should set aside 4-6% of their wedding budget for ordering and designing invitations, according to brides.com. And with the rising cost of inflation, prices for paper products have increased 7-15%, according to Staples.com. 
So, what should you be looking for when designing your wedding invitations, and how do you budget accordingly to make sure you don't break the bank? Consider these Stambaugh Wedding Planning Tips when planning your invitations: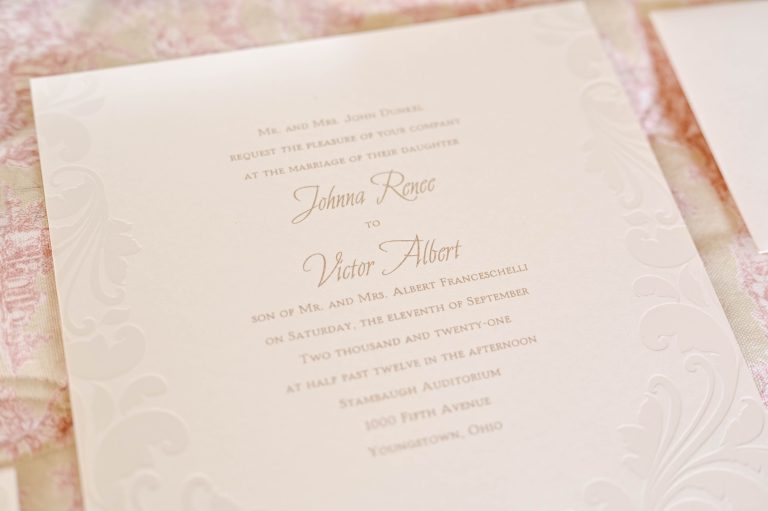 Cost saving alternatives: E-invitations & RSVP cards
If you're looking to go the environmentally friendly route and eliminate paper altogether, consider making a wedding website and have your guests print or download your invitation and RSVP online. You'll be able to access the RSVP guest list right on your website without having to worry about RSVP cards not being returned on time.
Guests will be able to turn to your website for additional details or more information, and this can save you tons of money in the long run. Check out one of the Stambaugh Auditorium blogs on Keys to Making Your Wedding Website Useful!
Budget for mailing postage
Make sure you budget mailing postage for your wedding invitation and RSVP return envelopes. When buying postage, consider buying forever stamps that can be used to mail a one-ounce letter regardless of when the stamps were purchased. No matter how prices change in the future, the stamps will never go bad! 
Be smart with your design elements
Creating a personalized design is easier, and more budget friendly, than you might think. 
Some speciality designs that can increase your invitation prices are details like embossed or debossed elements, a specific cut or shape to your invitations, not standard sized paper, coating like gloss or matte finished and foliage stamping, 
If you are a "DIY-er" and are more hands on with projects, try designing your own invitations at online printing sites like Shutterfly or Minted. It also gives you a real time estimate of your invoice to know the exact amount you will be spending! 
But if you would rather have more in-person assistance on designing your invitations, check with your venue to see if they can help.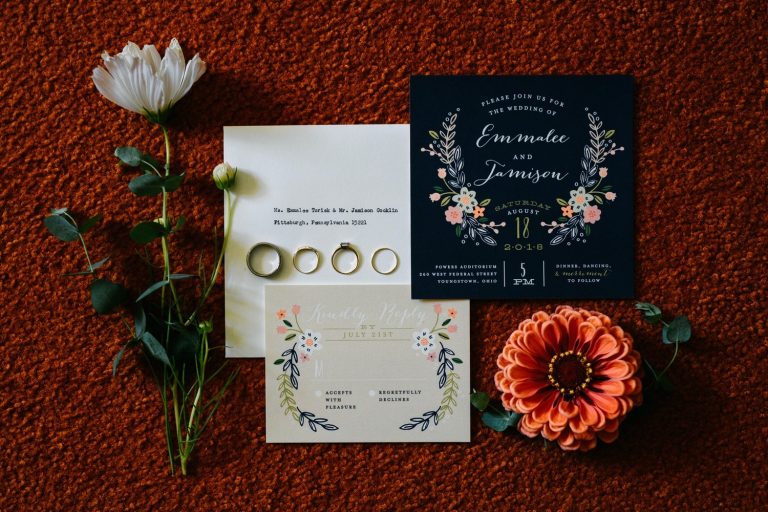 Check with your venue for design services
Some wedding venues offer graphic design services for programs, seating charts, and other items like invitations that you may not even know are services offered! It doesn't hurt to ask your wedding venues early on in the wedding planning process if they offer design or printing services. They could be more reasonably priced than a printing company and just as nicely done. 
Stambaugh Auditorium offers wedding design services such as invitation sets and more. We will work with you to create personalized designs for any items you may need for your ceremony or reception! Give us a call at  (330) 747-5175 to learn more about our wedding services.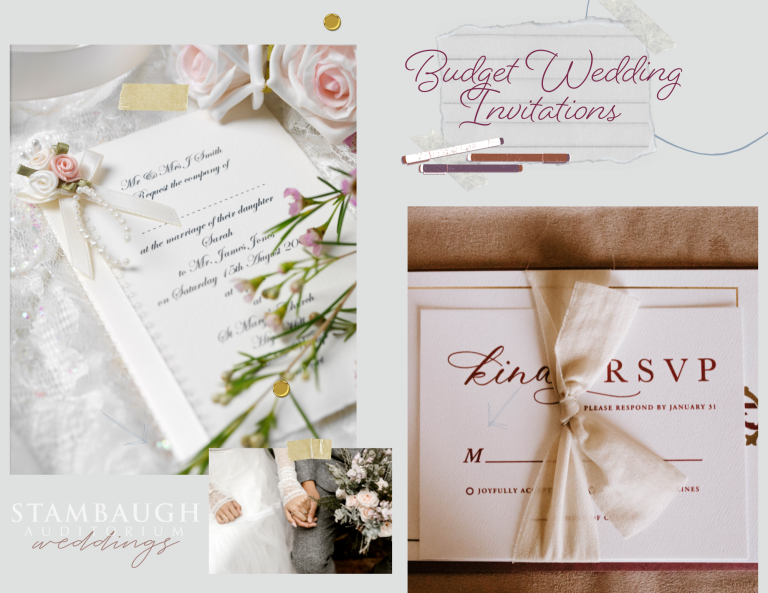 Are you interested in having your wedding at Stambaugh Auditorium?