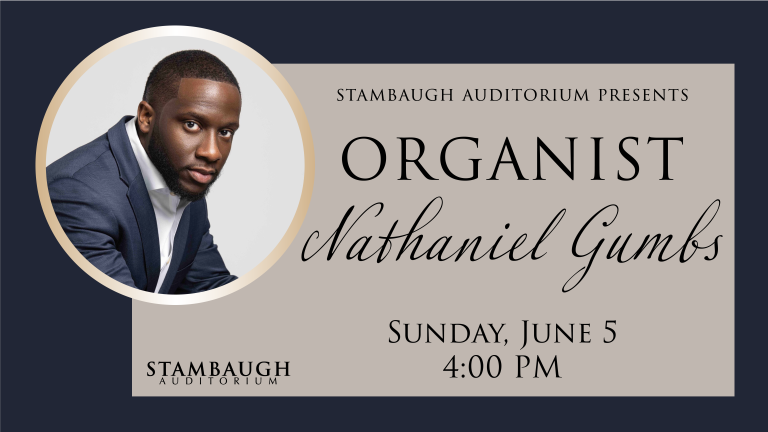 Outstanding Young Organist, Nathaniel Gumbs, to perform at Stambaugh Auditorium
Bronx, New York Native, Dr. Nathaniel Gumbs, will present a concert featuring the E.M. Skinner Pipe Organ in the Concert Hall at Stambaugh Auditorium on Sunday, June 5th at 4:00 PM. Dr. Gumbs has delighted audiences throughout the United States and abroad and is a stunning example of youthful yet masterful talent.
Currently serving as Director of Chapel Music at Yale University, Dr. Gumbs works with students, faculty, and guests to coordinate music for multiple worship communities. Prior to his position at Yale, he served as Director of Music and Arts and Church Organist at Friendship Missionary Baptist Church in Charlotte, North Carolina, where he led several hundred volunteer musicians and staff in four choirs and ensembles. His many years of diverse experience in church music started in his youth at Trinity Baptist Church in the Bronx.
Dr. Gumbs earned his undergraduate degree from Shenandoah Conservatory in Virginia, his Master of Music degree from Yale University, and in 2021 completed a Doctor of Musical Arts Degree at the Eastman School of Music.
In 2017, The Diapason recognized Nathaniel Gumbs as one of 20 outstanding organists under 30 years old for his achievement in organ performance and church music. He also curated the opening hymn festival, "Singing Diverse Music in the New Church," for the Hymn Society Annual Conference in 2018.
Tickets for the June 5th concert are on sale now. Ticket prices range from $8-$13 including applicable fees. Tickets are available Monday through Friday, 10:00 AM – 5:00 PM by calling 330-259-9651, or in person at the DeYor Performing Arts Center. Tickets are also available 24 hours a day online at stambaughauditorium.com.