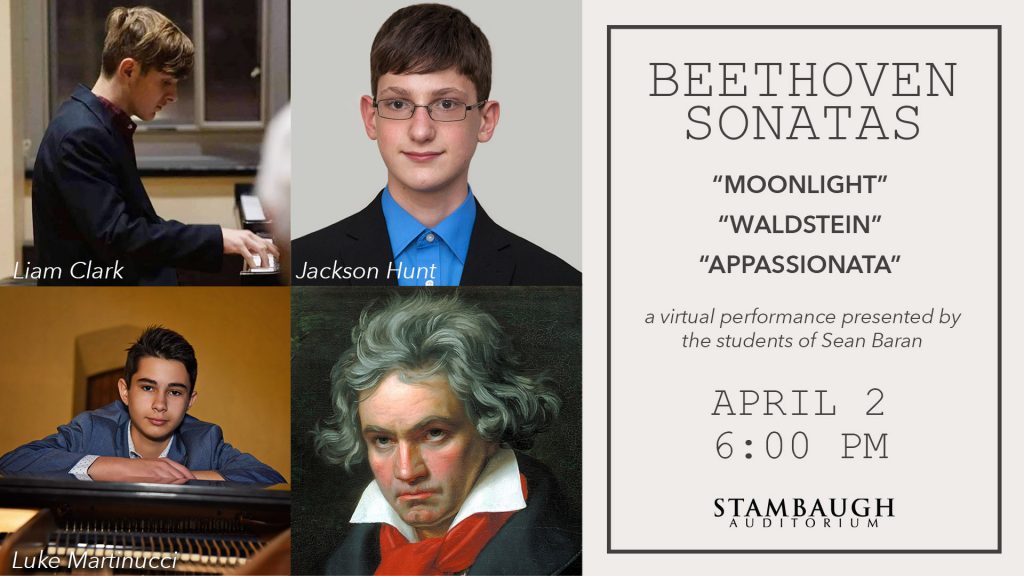 Beethoven Piano Recital to Premier Digitally
On Friday, April 2 at 6:00 PM students of Youngstown pianist and organist, Sean Baran, will present three of Ludwig van Beethoven's most compelling and exciting works for solo piano. The recital will stream live for free in The Digital Concert Hall app.
The Moonlight, Waldstein, and Appassionata sonatas exemplify the heroic struggle associated with Beethoven's music while also pushing the expectations of the pianists. The soloists that will be featured are Liam Clark, Jackson Hunt, and Luke Martinucci.
Liam Clark is a freshman at Lincoln Park Performing Arts Charter School. In addition to his piano playing, Liam is a highly skilled craftsman specializing in making knives. Jackson Hunt is a junior at Lincoln Park Performing Arts Charter School. Jackson's piano playing and composing has earned him state and national awards and has been heard in prestigious venues such as Carnegie Hall. Luke Martinucci is a senior at Ursuline High School. Luke's love for piano and music has led him to participate in many festivals and competitions such as the Cleveland Institute of Music's Summer Sonata. The recital is sponsored by Stambaugh Auditorium, recorded and produced in the Concert Hall.
Stambaugh Auditorium's – The Digital Concert Hall, is an app available to download on smart devices. Gain access to extraordinary performances in the comfort of your home, or in the palm of your hand. Users can download the app from Apple's App Store, The Google Play Store, Amazon's App Store, AppleTV, and Roku TV enabled devices.
For additional information visit stambaughauditorium.com or call 330-747-5175.