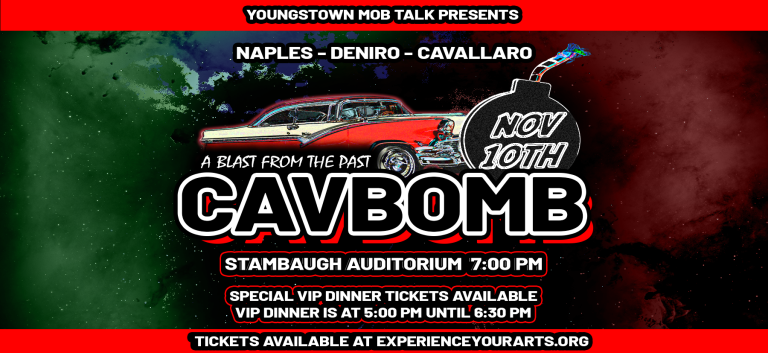 Youngstown Mob Talk presents CAVBOMB: "A Blast From The Past"
For Immediate Release:
"It's not just another Youngstown Tune-up." In 1962, a mafia car bombing on Youngstown's north side took the lives of racketeer
"Cadillac Charlie" Cavallaro and his 11-year-old son Tommy. Another child, Charlie Jr, was badly injured. Now, over 60 years later, Youngstown Mob Talk co-hosts James Naples and Johnny Chechitelli welcome Charlie Jr. back to Youngstown, along with special guest Cecil Moses, the last surviving FBI agent to work the case. Together, in this special two-hour, one-night only event at Stambaugh Auditorium, they will explore the circumstances leading up to the unsolved bombing. From the preceding murders of
mobster Sandy Naples and his girlfriend Mary Ann Vrancich, to the retaliatory killings of Vince DeNiro, Billy Naples and more, the Cavallaro bombing ended a tumultuous underworld war that grabbed headlines, shocked the nation, spurred then-Attorney General Robert F. Kennedy to send in the FBI and earned Youngstown the dubious nickname "Crimetown USA." The night's focus will also fall on the FBI's extensive investigation (codenamed "CAVBOMB") and the aftermath of the crime itself.
A VIP Dinner before the show will be emceed by "Brier Hill" Jimmy Mulidore aka "The Vegas Player," a legendary jazz musician who grew up with the Naples brothers in Youngstown and then went on to a lengthy music career in Las Vegas, where he played alongside Elvis, Sinatra, Streisand and more. A self-described "Italian Don Rickles," Jimmy will weave his colorful true stories of Youngstown's heyday around live renditions of his music, before the show shifts to the auditorium for the main discussion.
For press inquiries, email steelvalleysyndicate@gmail.com
Tickets are on sale now. They are available Monday through Friday, 10:00 AM – 5:00 PM by calling 330-259-9651, or in person at the DeYor Performing Arts Center. Tickets are also available 24 hours a day online at stambaughauditorium.com.
CAVBOMB Bios:
James Naples III grew up in Youngstown with a name synonymous with the city's mob lore. Grandson of James "Jinx" Naples and the great-nephew of racketeers Sandy, Billy and Joey Naples, James has had a lifelong fascination with his family's history. James earned a Master's Degree in Professional Communication from Youngstown State University and is currently a teacher at Choffin Career & Technical Center. He is also the founder of the "Youngstown Mob" Facebook group, co-host of the "Youngstown Mob Talk" podcast and a Producer of "The Vice Squad Podcast."
Johnny Chechitelli is a filmmaker and journalist from Youngstown, best known as a Producer on the "Crooked City: Youngstown" podcast as well as Director of the "Youngstown: Still Standing" documentary film. In 2022, Johnny founded the Amazing Podcast Company in Downtown Youngstown. He also co-hosts the "Youngstown Mob Talk" podcast alongside James Naples III, and Produces "The Vice Squad Podcast." He has been researching the Mahoning Valley's organized crime history for 20 years.
Charlie Cavallaro Jr. survived one of the most horrific crimes in Youngstown history. In 1962, while entering his father's car to go to football practice, then 12-year-old Charlie and his 11-year-old brother Tommy, became unwitting victims of a car bomb intended solely for their father, "Cadillac Charlie" Cavallaro, a made man in the mafia with ties to New York, Pittsburgh and Cleveland. The bomb took the lives of his father and brother while severely injuring Charlie, requiring many surgeries throughout the years. Now 73- years-old, and living out of state, Charlie is coming back to Youngstown to shed light on the darkest moment of his life.
Retired agent Cecil Moses served in the FBI for 42 years. Following the Cavallaro bombing, Cecil was one of many FBI employees sent to Youngstown as part of the Bureau's "CAVBOMB" investigation. He worked as a clerical employee and then investigative specialist for 12 years (including his time in Youngstown) before receiving an appointment to be a special agent where he developed an expertise in criminal and civil rights matters. After retiring from the FBI, Cecil served as Chief of Police in Madison, Alabama and now runs a private security consulting company, The Moses Group LLC in Tennessee.
Jimmy Mulidore grew up in Youngstown's Brier Hill neighborhood, alongside the Naples brothers. But instead of following in their footsteps, he pursued his passion for music. Already an accomplished saxophone and clarinet player, Jimmy spent some time studying at Ohio State University as well as New York's Juilliard School of Music. Eventually, he made his way to Las Vegas, Nevada where he would go on to play with Frank Sinatra, Elvis Presley, Barbara Streisand and other music legends. He would also become the Musical Director for both the Hilton and Flamingo Hotels. In 2019, Jimmy added the title of Author to his resume, writing the autobiography "The Vegas Player."