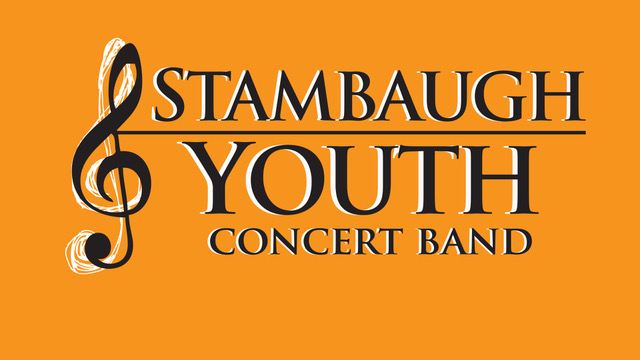 Stambaugh Youth Concert Band Presents Spring Concert Featuring Senior Soloist
The Stambaugh Youth Concert Band will close its 2021-2022 Season with a concert featuring Senior Soloist, Natalie Alfera, and the presentation of the Barbara Armstrong Scholarship on Tuesday, April 12th at 7:30 PM. The concert will be presented with an in-person audience as well as live streamed. The doors for the concert will open at 6:45 PM. The concert and live stream will start at 7:30 PM.
The Spring 2022 Concert repertoire will feature Steel Valley Transformation which was commissioned in 2019 by the District 5 OMEA Honors Band. It was written by Michael Kamuf, a Dana School of Music, Youngstown State University Alumnus. The work celebrates the grit and resolve of Ohio's Mahoning Valley community. The piece is divided into three sections: "Steel Diversity," celebrating the success of the steel industry in the Mahoning Valley; "Resolve," celebrating the strength of the community as it deals with the decline of the steel industry; and "New Beginnings," celebrating the energy as the Mahoning Valley redesigns itself as the Voltage Valley.
Senior Soloist, Natalie Alfera will be the featured clarinet soloist. Natalie attends Laurel High School in Pennsylvania and was recently named the 2022 Distinguished Young Woman of Lawrence County. In addition to the Stambaugh Youth Concert Band, Natalie has participated in The Youngstown Symphony Youth Orchestra as well as her school band and wrestling team. Natalie plans to pursue a degree in Music Education at West Virginia University this fall. A full interview with Natalie will premiere on The 1926 Podcast on Tuesday, March 29.
The Stambaugh Youth Concert Band is comprised of 59 of the top high school musicians from Northeast Ohio and Western Pennsylvania. The SYCB is currently under the direction of Mr. Tyler Husosky, Dr. Michael Crist, and Mr. Nathan Sensabaugh.
Tickets for the in-person portion of the concert are on sale now and are $8.00 to $10.00, inclusive of all fees. Tickets are available Monday through Friday, 10:00 AM – 5:00 PM by calling 330-259-9651, or in person at the DeYor Performing Arts Center. Tickets are also available 24 hours a day online at stambaughauditorium.com.
The concert will also be live-streamed to the Stambaugh Auditorium "Digital Concert Hall" app, Stambaugh Auditorium website, and to the Stambaugh Auditorium YouTube channel at no cost.
The season is presented in part by The Thomases Family Endowment of The Youngstown Area Jewish Federation. Additional sponsorship opportunities for the event are currently available. Please contact JoAnn Stock, Chief Development Officer, at jstock@stambaughauditorium.com or 330-747-5175 for more information.