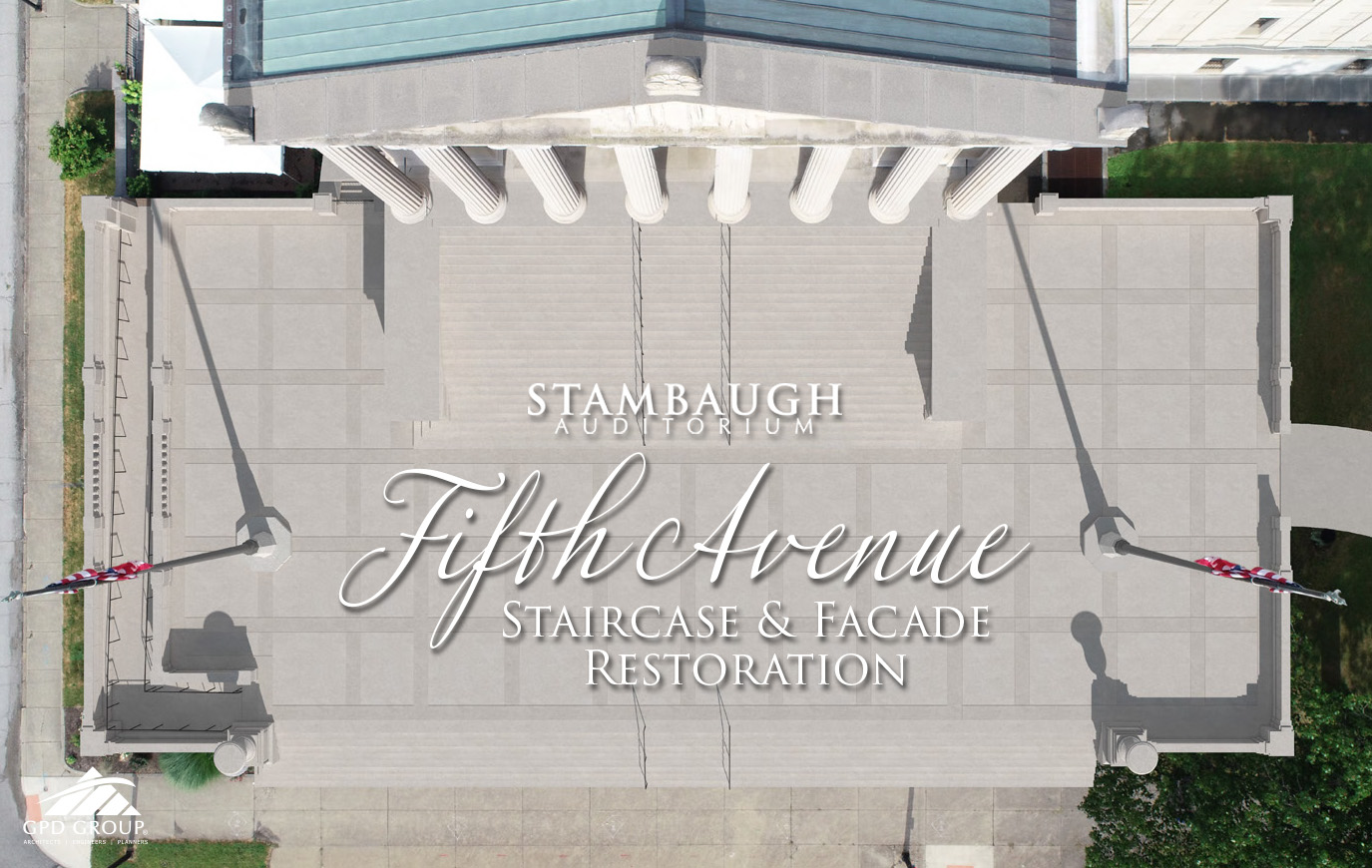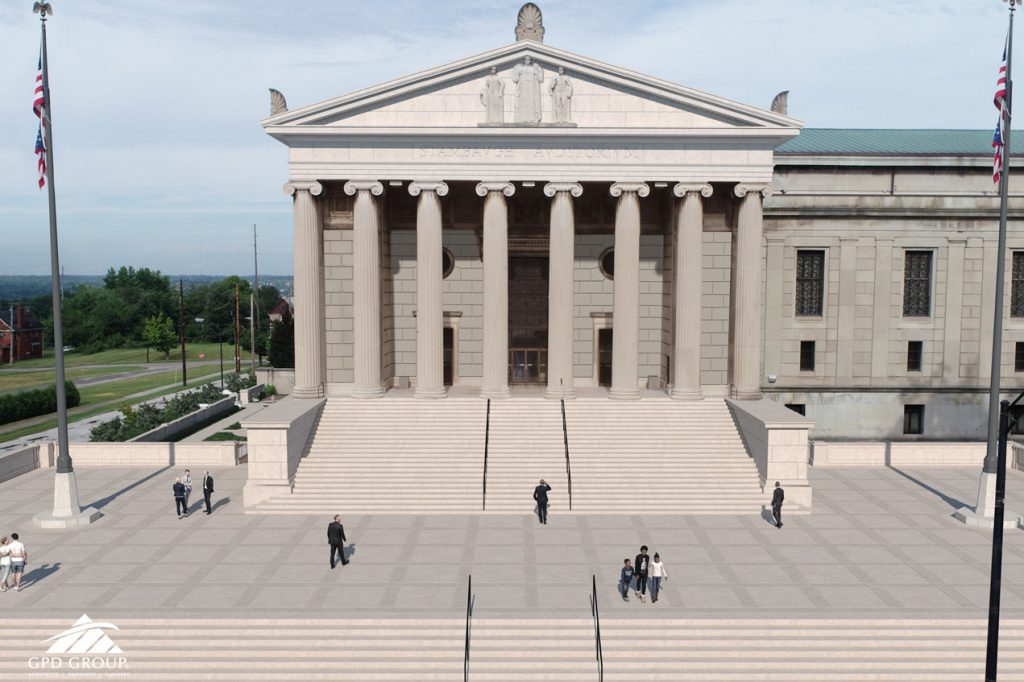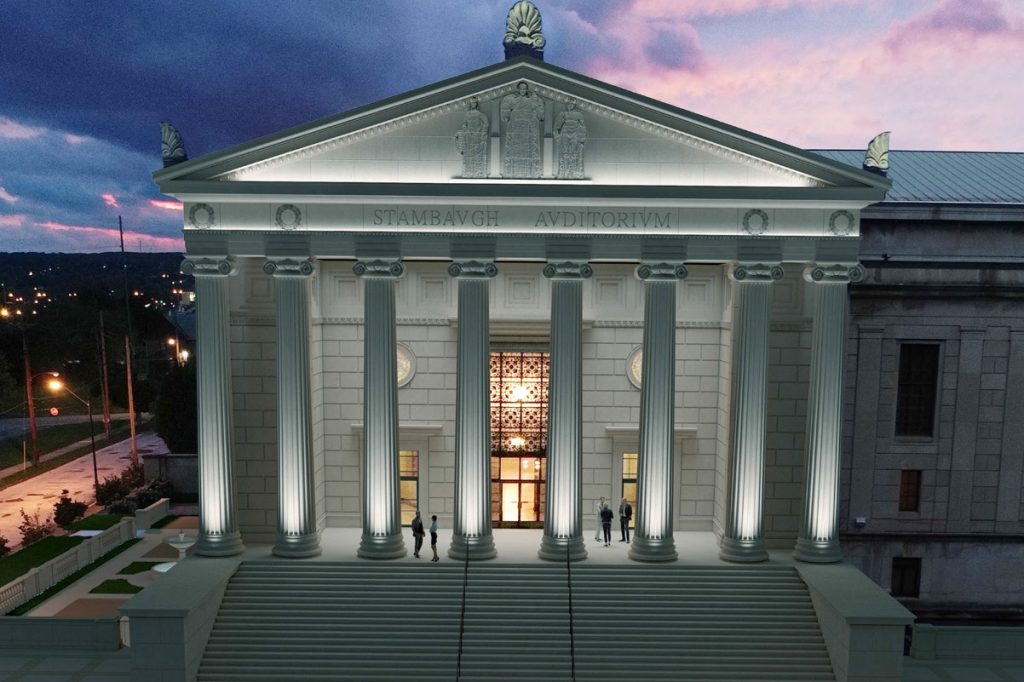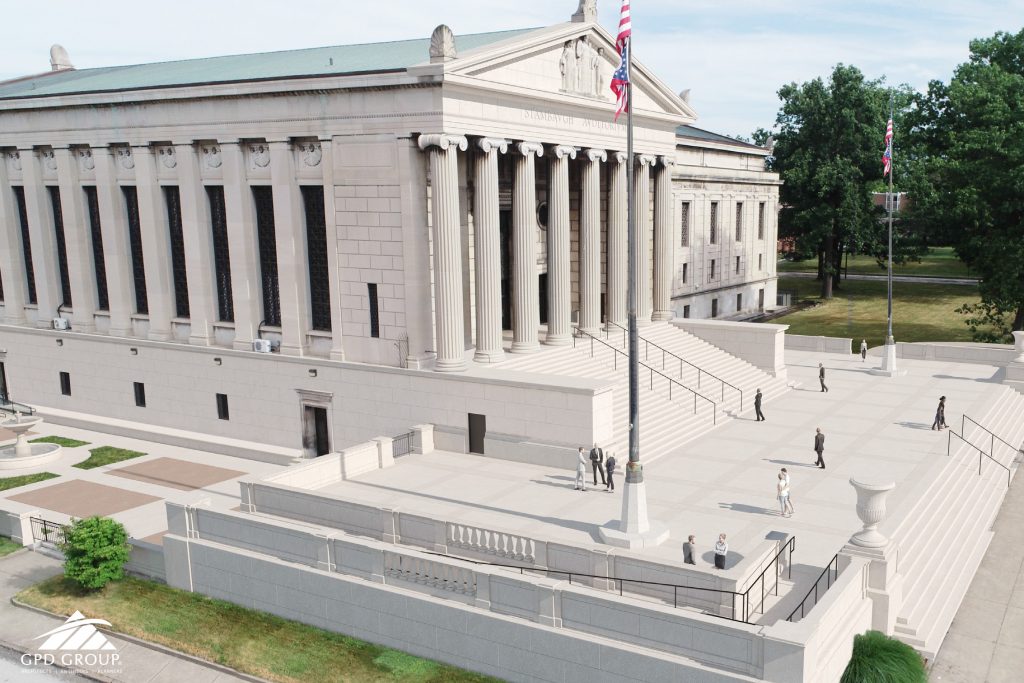 The goal of this project is to raze and replace the Fifth Avenue Monumental Staircase and platform, re-construct retaining walls, add dimensional exterior lighting to the West, South and East Entrances and Facades, clean the decades of soot from the exterior of these façades, and restore all decorative metalwork at the entranceway. All of this work will be done using historically guided materials. This is is to ensure the integrity of the construction for many years to come and to preserve the building to the standards set forth by the Historic Preservation Office of Ohio and the National Register of Historic Places through the U.S. Department of the Interior.
Over the past 94 years, harsh winters, salt treatment, rain, sleet, and sun have caused the iconic staircase to reach its structural maturity. The broken and crumbling steps were a safety hazard necessitating that the monumental staircase and grand entrance be closed until repairs could be made. According to the initial surveying and core drillings, the main staircase structure is within five years of the end of its life.Those core drillings were conducted in November of 2017. The conclusive results of the surveying and drillings indicated the need to chip away the loose stone and replace it with fresh concrete patch as a temporary fix. This process was completed and Stambaugh Auditorium management was assured that this temporary fix would allow the staircase to remain functional over the course of the immediate future but would not preserve the life of the structure.
The Fifth Avenue staircase is not only the main entrance of Stambaugh Auditorium but it also has been recognized, by the Youngstown and surrounding community, as a cultural and historic landmark. Replacement of the Fifth Avenue Staircase is crucial to Stambaugh Auditorium because it not only contributes to the architectural detail of the building but also the financial success of our organization.
Spring 2021
Demolition and site work begins to prepare the site for construction.
Initial Cleaning of Facade occurs
Summer 2021
Demolition and site work continues/finalizes
Concrete Work begins on foundations
Summer 2021
Concrete Work for foundation continues and finalizes
Utility installation (Electrical, Plumbing, Water)
Summer 2021
Masonry work, salvaging materials and re-constructing retaining walls and re-construction of staircase substructure.
Fall 2021
Landscaping - planting, grading,
Fall 2021
Painting and caulking, door installation, ironwork restoration, bird deterrent install, ag pole installation, light fixture installation, final cleaning.