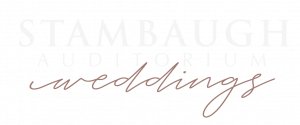 Tours are by appointment only. To schedule, call the administrative office at 330-747-5175
Christman Hall
The Anne Christman Memorial Hall is the perfect space for a smaller, intimate reception or a ceremony with the atmosphere of a traditional church wedding. With inlaid vaulted ceilings painted with Gold Leaf, the space is sophisticated as is or with additional decoration. The large windows facing south and tall archways to the north, give this intimate space a cathedral atmosphere.
Tyler Grand Ballroom
The Jeanne D. Tyler Grand Ballroom is the ideal space for large receptions with the capability to host up to 550 guests. The spacious layout allows for a customizable floor plan, which can be unique to any wedding theme. The Ballroom has undergone several updates recently with a new entryway, wing walls, and stage area. Updates to the lighting with chandeliers and décor have given the space more elegance as well as adding to the versatility. Each couple can create a wedding that is distinctive to their vision for the day.
Formal Garden
Located on the south side of the building, the Garden is a beautiful setting for an outdoor ceremony or reception. It is home to the original fountain, which has been restored with ambient lighting and is the centerpiece of this space. It is also a picturesque setting to host a pre-reception Cocktail Hour.
Lobbies
The Ballroom Lobby, located on the first floor, and the Concert Hall Lobby, located on the second floor, are versatile spaces that can host various events of a wedding celebration. The Concert Hall Lobby can host a ceremony or reception, and the Ballroom Lobby is the perfect setting for a Cocktail Hour prior to a reception in the Grand Ballroom. These spaces have an elegance that cannot be duplicated with intricate detailing and a backdrop of grand staircases.